Women's Club 12th House and Garden Tour
Saturday, June 10, 2023 (10:00 AM - 4:00 PM) (EDT)
Description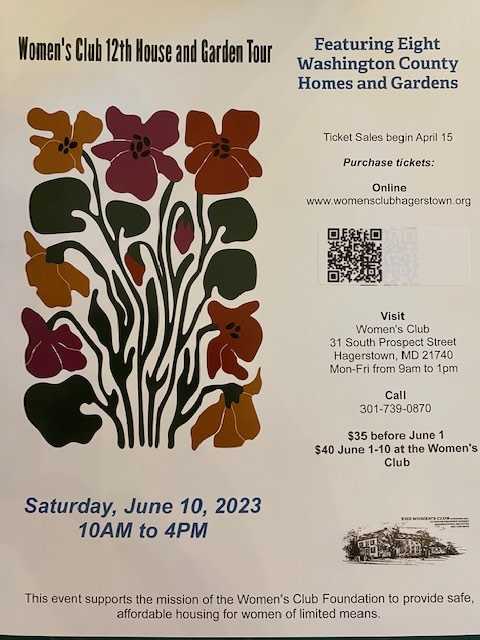 *Click Here to Visit the Women's Club Foundation's Website
About the Event:
For over 30 years, the Women's Club of Hagerstown has sponsored the premier House and Garden Tour in Washington County. This event is open to the public and is the signature fundraiser for our Club. We are very proud of this tradition, which is quite popular in our community. Our 12th House and Garden Tour features historic and/or significant properties in Washington County, MD. We have lovely and interesting homes and gardens on this tour, and are excited for our guests to visit and enjoy seeing them.
On Saturday June 10, 2023, the Women's Club itself will feature Susan and Douglas Stull, historical interpreters. The Stulls are talented and experienced interpreters who for about 30 years have performed locally, at Gettysburg, and for the Discovery Channel. The Stulls will describe life in Hagerstown in the late 1860's, particularly as it would have been for residents of 31 South Prospect Street. We are thrilled to be able to offer this unique experience to our guests, and know you will enjoy this wonderful opportunity to view a snapshot of history.
You may bring your lunch and enjoy it in the comfort of the Women's Club. We will have tables and chairs set up in our beautiful new auditorium, and guests are welcome to use our restrooms. Visitors are also welcome to bring their lunches and enjoy eating in the Bowman House garden.
Saturday, June 10, 2023 (10:00 AM - 4:00 PM) (EDT)