Hagerstown Startup Week
Monday, May 22, 2023 8:30 AM - Friday, May 26, 2023 3:00 PM (EDT)
Description
Register Now for Hagerstown Startup Week
Be Inspired. Create Community. Learn from the Best and Brightest.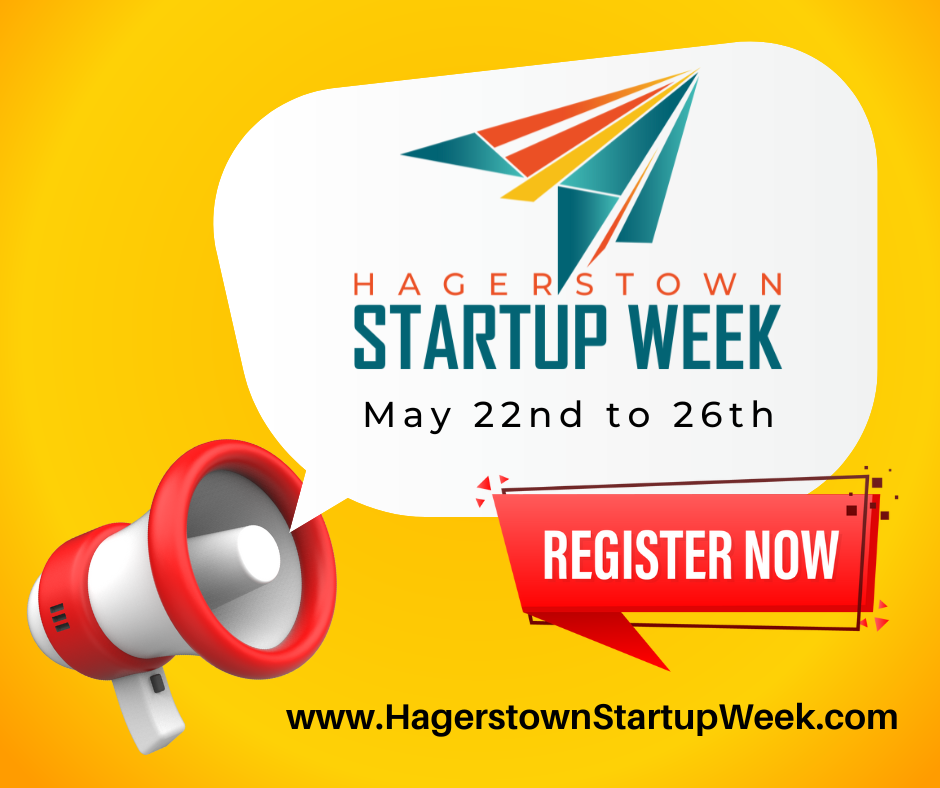 Registration is now live for Hagerstown Startup Week, an opportunity for entrepreneurs to connect and network with both resource providers and fellow founders. This free, week-long conference brings together Western Maryland's dreamers, doers, inventors, makers, entrepreneurs, and small business owners. Whether you are a seasoned entrepreneur or new to the community, we have created space for you.
Register at www.HagerstownStartupWeek.com.
WHO: Western Maryland startup founders, entrepreneurs, innovators, small business owners, business leaders, entrepreneurial resource providers, business-building experts, and more.
WHAT: Join us as we celebrate the magic that happens when inspired people put their great ideas into action. Hagerstown Startup Week will feature panel discussions, educational workshops, networking events, an Idea Pitch Competition, and a Startup Showcase, highlighting 30 companies based in Washington county.
WHERE: All sessions are on Hagerstown Community College Campus
WHEN: May 22 - 26, 2023
HOW: Register online at www.HagerstownStartupWeek.com
WHY: Hagerstown Startup Week is a completely free event for participants, made possible by local sponsors including Washington County Department of Business Development, Hagerstown Community College, Antietam Broadband, Mama's Biscuits, M&T Bank, TEDCO, United Bank, City of Hagerstown Department of Community and Economic Development, Maryland Department of Housing and Community Development, F&M Trust, Greater Hagerstown Committee, and Washington County Chamber of Commerce.
###
#HagerstownStartupWeek Highlights
Please go to HagerstownStartupWeek.com to view a full schedule. Personalize your Startup Week experience by accessing the WHOVA app in your Apple Store or Google Play.
Check out the schedule:
Monday, May 22nd
8:30 am Opening Ceremony
Sponsored by Antietam Broadband
Hosted by The Greater Hagerstown Committee, Washington County Chamber of Commerce and Hagerstown Community College
10:00 am Business Resource Fair
Powered by Washington County Maryland Department of Business Development
10:00 am Meet the Funders: Antietam Broadband Innovation Fund Panel Discussion
1:00 pm Venture Mentoring Services
Hosted by Maryland Tech Council
4:00 pm Ask a Mentor + Happy Hour
Hosted by Greater Hagerstown Committee
Tuesday, May 23rd
9:00 am My Entrepreneurial Journey Panel Discussion with owners of ExciPlex, Broker Builder Solutions, Mindo.Health, Future Broadband and TransPromotion
Hosted by United Bank
11:00 am My Business Journey Panel Discussion: Veteran. Franchise. Services
Hosted by SBDC Maryland and Washington County Chamber of Commerce
1:00 pm How to Avoid Failure with Author Bob Jones
First 30 attendees will receive an autographed book
3:00 pm Meet the Owners at Ship Simply and Hearty Pet Warehouse
Sponsored by Mountain Maryland Tech Network
Wednesday, May 24th
8:00 am Coffee & Connections Panel Discussion: Capitalizing on our Capital Projects, How your business can benefit from the downtown's growth
Hosted by Washington County Chamber of Commerce
10:00 am Entrepreneurial Leap: Create a Customized Road Map to Start Your Business
Book provided to attendees.
Sponsored by HighRock
1:00 pm Idea Pitch Competition
Hosted by David W. Fletcher Incubator + Labs
1:00 pm Multiple Workshops for all Business Stages
Thursday, May 25th
8:30 am Idea Pitch Competition
Hosted by Mama's Biscuits Culinary Incubator
10:00 am My AgriBusiness Journey Discussion
Facilitated by Washington County Maryland Department of Business Development
11:00 am Startup Showcase 30+ Entrepreneurs plus a Scavenger Hunt to win $$$
Presented by M&T Bank
2:00 pm The Ups and Downs of Gaining Space on Retail Shelves Panel Discussion with Industry Experts
Friday, May 26th
1:00 pm Meet the Owners at Warehouse Cinemas Leitersburg
3:00 pm Closing Party!
Hagerstown Public Square, 8 Public Square, Hagerstown, MD 21740
Hagerstown Music Stroll
Hagerstown Community College
11400 Robinwood Dr.



Hagerstown

,

MD

21742

United States



Monday, May 22, 2023 8:30 AM - Friday, May 26, 2023 3:00 PM (EDT)