GRAND OPENING: Pediatric Movement Center Aquatics!
Thursday, May 4, 2023 (4:00 PM - 6:00 PM) (EDT)
Description
Pediatric Movement Center is hosting a Grand Opening and ribbon cutting for their Aquatics center!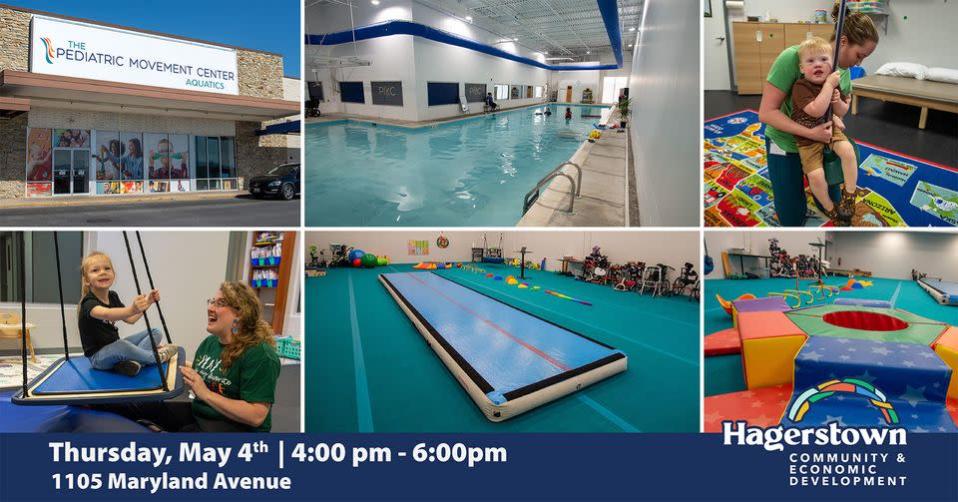 Come join us at 4pm on Thursday, May 4th at Pediatric Movement Center Aquatics located at 1105 Maryland Avenue. Come out and meet the owners (Christina and Brian Snyder) and staff. Early attendees are invited for private tours.
"Pediatric Movement Center (PMC) is family-centered and passionate about providing the best care to the children and families in the Tri-state region."
Skilled aquatic therapy is completed in a pool, with a temperature-regulated system, based on the foundation of zero gravity and buoyancy of a person's body weight.
Research has shown that aquatic therapy promotes a reduction in muscle tone, improved extensibility of soft tissue and global relaxation of our bodies. The buoyancy of the water provides postural stability to our bodies, therefore, increasing efficiency of cardiovascular, respiratory and digestive and musculoskeletal systems. The buoyancy of the water also provides consistent proprioceptive input through the trunk and extremities, resulting in improvement in core strength and postural control.
1105 Maryland Avenue



Hagerstown

,

21740



Thursday, May 4, 2023 (4:00 PM - 6:00 PM) (EDT)