Betty's Wish 2023 Aging Boldly 5K
Saturday, April 1, 2023 12:00 AM - Sunday, April 9, 2023 11:59 AM (EDT)
Description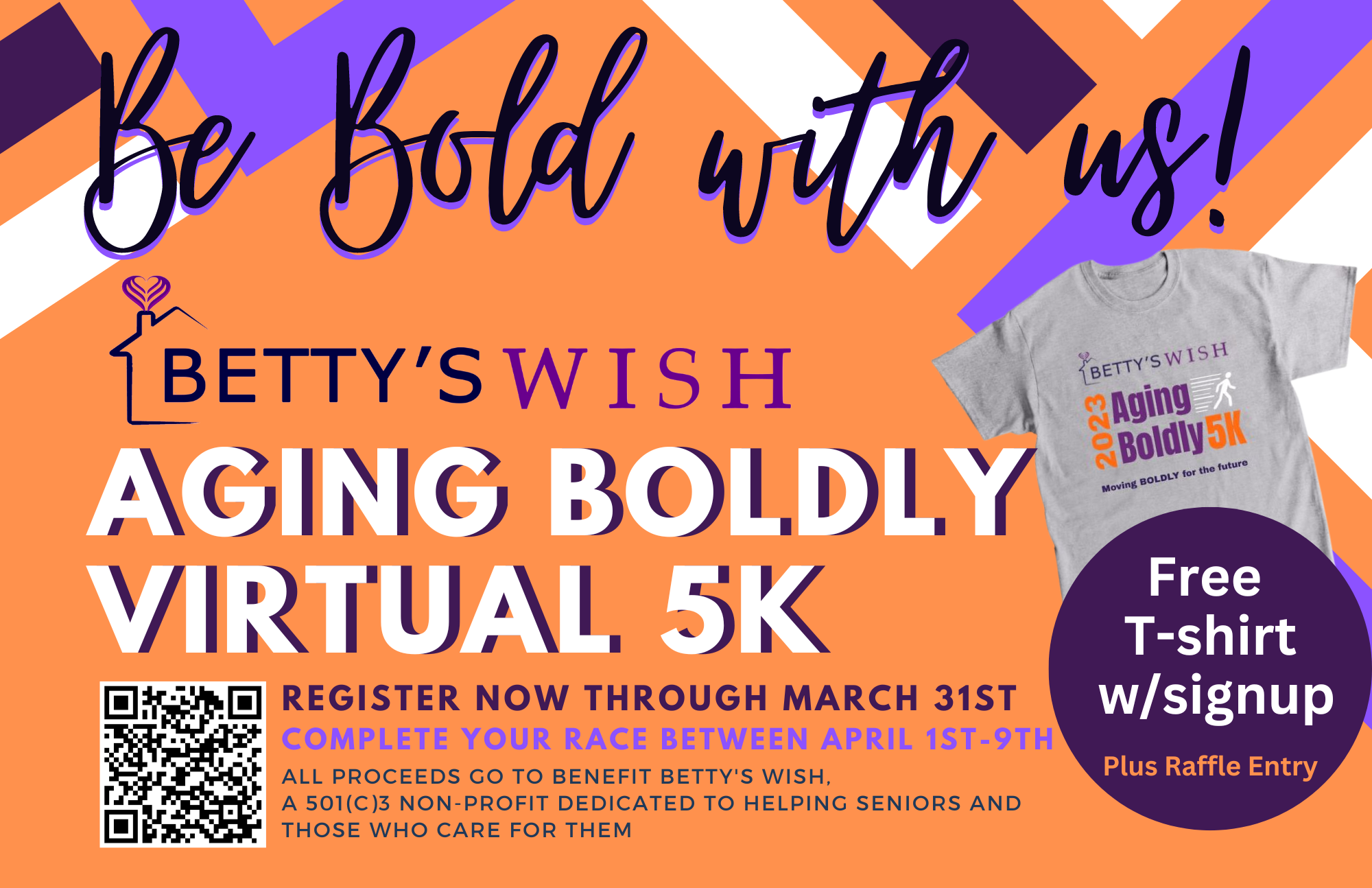 Are you ready to be BOLD with us? The Betty's Wish 2023 Aging Boldly 5k race is perfect for beginners, and those who love to move for a good cause. We have made this race virtual to allow for easier participation, ample time to participate, and it also allows you a way to begin to move for your wellness. Since it is a virtual race you can walk, jog, or run - at your own pace. The race will begin April 1st and end April 9th. We encourage you to be active and post your progress!
Our goal with this race is to promote our Aging Boldly campaign which is focused on raising awareness of the aging process and how making healthy choices now affects your future. We define Aging Boldly as the process of growing older, in a confident and courageous way; showing a willingness to take risks and/or make changes to improve your overall health and well being. In serving the senior population we see the effects of aging, the good, the bad, the ugly. Making healthy choices today - will improve your future - it is that simple. Register Today and choose to be #AgingBoldly for your future!
At Betty's Wish our mission is to serve God and our Country by helping our elderly and disabled neighbors and those who care for them. We work with seniors and those who care for them by providing care, resources and training to seniors and care providers.
---
URL: https://runsignup.com/Race/MD/Williamsport/AgingBoldly5K
Early Registration is 3/01/2023 to 3/15/2023 and cost $35.00
Standard Registration is 3/16/2023 to 3/31/2023 and cost $40.00
---
All those who register will get a T-shirt and will be entered into our Aging Boldy Race Raffle!
We will draw 5 winners from this raffle:
- 2 $50.00 prize
- 2 $75.00 prize
- 1 $250.00 prize
Virtual Event
Virtual Event

,

Saturday, April 1, 2023 12:00 AM - Sunday, April 9, 2023 11:59 AM (EDT)